Westerners hate to give that other coast any credit, but this time Ben Aaron was so right!  Dance Walking combines the best of all worlds:  An exercise routine that makes everyone smile and helps you meet lots of great people.  You will smile, too.  For sure.  Will pumping iron do that for you?  No way.  Only Dance Walking will. So get out there, anywhere anytime, turn on a boom box or just plug in your ipod tunes and start waling/dancing from point A to point B.
Admittedly, the awesome Fourth of July celebration in San
Francisco brings people from all over, but who knew that would mean all over the world?  Add a little music, some fireworks and your new red sneakers.
Hot dog!
If you missed the street dancing and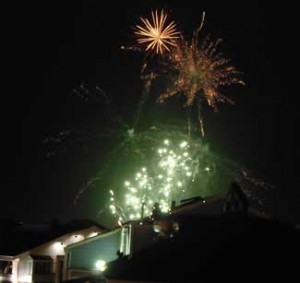 fireworks in SF today, well, there's always next year.
A special thank-you goes to Sugar Cafe for juicing-up the first SF Dance Walkers with some free coffee this morning.