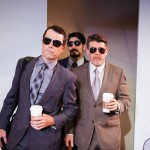 The neighborhood got to bring and share bottles of our favorite wines while we heard free readings of local playwright Aaron Loeb's Ideation in draft form.  It takes guts and artistic commitment for SF Playhouse to sponsor World Premier performances from first readings through final polished production, but hey, it pays off! Now our very own San Francisco gem is headed to New York City.  So which coast is winning? Go west, young playwrights.
Read more about the New York performances.
Click here for tickets and information about the latest offering from SF Playhouse: Trouble Cometh.